Redefining Rural Economic Development Through Outdoor Recreation
In a recent article in BETA Mountain Bike Magazine author Graham Averill described the town of Old Fort's decline this way:
"This is how a town dies. The first thing to go is the jobs. The plant that employs 30 percent of the town shuts down. Everyone knows it's coming but it still feels like it happens overnight. The other plant on the other side of town goes next. Textile jobs move overseas. Then the people disappear, longtime residents migrate to other towns for work, and the shops wither away. The ice cream store, the mechanic, the drug store ... they all close one by one, replaced by vacancy signs. The plant sits empty, tarps covering holes in the roof. Kids throwing rocks bust out the windows of brick warehouses. Storefronts are boarded up. Some people hang on, but the population shrinks to triple digits, down from a few thousand. A skeleton crew really, just enough people to keep the lights on. There are a few jobs to fill. McDonald's. Security at the old plant to make sure the local kids, bored and nothing to do but look for shit to break, don't take it over."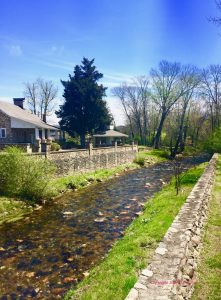 A town's decline is easier to describe than its resurgence. We have written accounts of the past to help narrate an all-too-familiar story in Appalachia, but the future is opaque and unwritten. Yet, what happens when a diverse group of community leaders come together to reimagine a town's future, by drawing on a diversity of dedicated and vested people in the present armed with a patchwork of less-appreciated pasts? A vision begins to come into focus that serves as an outline for new stories. The present is where that future's outline, that vision, is daringly imagined on the basis of telling new stories about the past—different, equitable, and more inclusive stories—that honor diverse voices and experiences. These are new future-focused storylines that everyone helps to craft.
That is exactly what is happening in the small Southern Appalachian town of Old Fort, North Carolina. A team of visionaries made up of community organizers, public land managers, community development leaders, business owners, archaeologists, outdoor recreation leaders, elected officials, and foundation partners are building a new model for rural community revitalization centered on equitable development, local assets, and a shared future vision.
The Old Fort project, spearheaded by the Catawba Vale Collaborative (CVC), is redefining rural economic development through outdoor recreation. This means identifying outdoor recreation assets that have the capacity to spur significant economic development, positioning marginalized communities to take advantage of this growth from the beginning, leading the project with a push for workforce and affordable housing, and storytelling to enrich locality, memory, and identity through community-engaged archaeology.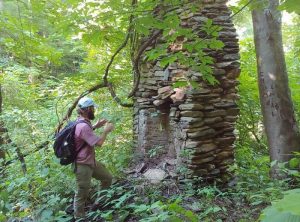 The CVC is a ground breaking partnership whose mission is to comprehensively redefine rural economic development in Appalachian communities. The primary organizations making up the Collaborative are Camp Grier and the G5 Trail Collective, Eagle Market Street Development Corporation, The University of North Carolina Chapel Hill (UNC-CH), and Texas Tech University. Camp Grier's G5 Trail Collective is a non-profit partnership with the US Forest Service (USFS) to build and maintain trails on USFS public land. Eagle Market Street Development Corporation is a not for profit, but for public benefit, community development corporation whose mission is to develop people, property, and businesses in communities of color across North Carolina. Finally, UNC-CH and Texas Tech bring community engaged archaeology strategies to the project that speak to the deep history of pre-contact Native American societies, remnants of colonial settlement, civil war era groups, railroad and timber development, mining, National Forest lands, African American communities, and others whose lifeways have left recoverable traces in and around the National Forest. The overarching goal is to leverage natural riches in a sustainable way, position marginalized communities to benefit from the resulting economic growth, and help the community retell their stories in a way that uplifts all residents and redefines a community's sense of place.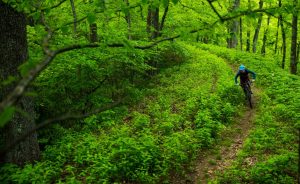 This work has been happening in Old Fort for two years and the community is now launching into a new era of growth that creates a braided and equitable economic ecosystem from the beginning. Recently Camp Grier's G5 Trail Collective was awarded a nearly $500,000 grant by the Dogwood Health Trust to build Phase I (7 miles) of a 42-mile trail project on USFS land surrounding the town. Eagle Market Street Development Corporation was awarded $280,000 to purchase a small business incubation space downtown to proactively position small businesses from communities of color to take advantage of these new opportunities. The partnership has also submitted a grant to the Community Foundation of Western North Carolina to fund Phase I of a novel interpretive archaeology project to use the trails to help reframe and retell the community's story in collaboration with American Indian and African American community partners.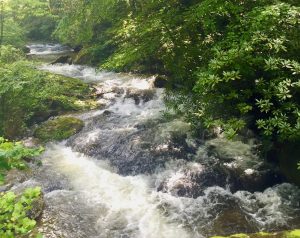 The Research Laboratories of Archaeology (RLA) at UNC-CH and Texas Tech University are key players in this last initiative. Led by Dr. Jennifer Gates-Foster (Assoc. Prof. of Classics and Archaeology, UNC-CH) and Dr. Christopher Witmore (Prof. of Archaeology and Classics, Texas Tech), the archaeology team is supporting the CVC's exploration of the diverse pasts in the project area by developing innovative interpretive materials that will support broad community engagement with the newly-built trails and supporting archaeological work in the project zone. Led by Dr. Heather Lapham (RLA, UNC-CH), they are also building collaborative partnerships with American Indian stakeholders and exploring ways to diversify participation in the Old Fort community's collective storytelling.
Other partners in the project include the Town of Old Fort, the McDowell County Tourism Development Authority, the McDowell Chamber of Commerce, Gateway Foundation, People on the Move Old Fort, McDowell Technical Community College, and local businesses like Kitsbow, Hillman Beer, and Mill Creek Properties. These partners, along with the CVC have undertaken the audacious goal of creating a just community that is healthy, economically durable, and grounded with an inclusive sense of place.
Awarded National Science Foundation Graduate Research Fellowships
Bestselling author and Coretta Scott King-John Steptoe award recipient Tracy Deonn discusses her fantasy novel Legendborn
Read an interview with Elizabeth Engelhardt and Malinda Maynor Lowery to learn more
"Storytelling is a Key Technique" 
To learn more about maternal health care in Robeson County, Kate LeMasters and her colleagues spent months listening to new mothers discuss the challenges they face and the supports they need. LeMasters, a third-year PhD candidate in the School of Public Health, has a deep interest in how women navigate the stresses of motherhood.
"We were trying to understand their day-to-day lives raising children in that community," LeMasters said. "Learning about the gaps in service and the strengths in terms of community support."
Now, with funding from Southern Futures, LeMasters and her team are doing something all too rare in academia. They're taking their findings back to Robeson County for a series of focus groups with those same women and their health care providers, asking whether the team's recommendations make sense and how they might be implemented to improve lives and health outcomes.
"We thought it was important to share what we're learning with the moms themselves," LeMasters said. "There's a lot of research that's been done in these communities and on these communities without their input. And we really want to share back what we've heard and see if it resonates."
Building long-term relationships with community partners is the best way to ensure real impact for public health work, LeMasters said. Issuing a report and sharing findings within the academic world is worthwhile and necessary, but the true value comes from gaining trust and relying on community guidance to improve conditions on the ground.
"From the start, we worked with the community to come up with research questions and focus on what they're interested in," LeMasters said. "Now we're building space for them to tell us when something is not working, or something is moving too quickly. Making sure they have ownership over the work."
Storytelling was a key technique of LeMasters' initial work in Robeson County. A group of new mothers in the region came up with weekly prompts about their experience — "Where do I get my stress and support?", for instance — and took photographs that captured their reactions. They came together as a group and discussed the different images they assembled, while public health researchers listened in to learn about the health infrastructure in the community.
"We got some really amazing insights from these moms," LeMasters aid. "And we learned that they really valued the process, liked having a place where they could talk and be heard. It was not meant to be a support group, but it kind of turned into one."
That became one of the key recommendations from the research — that mothers need a supportive setting where they can talk about their shared experiences and build lasting connections to health providers and to one another.
The project also revealed a pressing need for better mental health infrastructure in the county. Many of the mothers in LeMasters' study said they were reluctant to speak with doctors or nurses about mental health, for fear that they'd be reported or considered unfit to care for children. "It was a big taboo," LeMasters aid. "They felt like they couldn't really share with their nurses because they'd be worried about the ramifications."
With Southern Futures funding, all of those issues will get discussed in focus groups with mothers and health care professionals in the county, an effort to come up with solutions in partnership with the community.
"It's not just about outcomes," LeMasters aid. "Relationship building matters for its own sake."